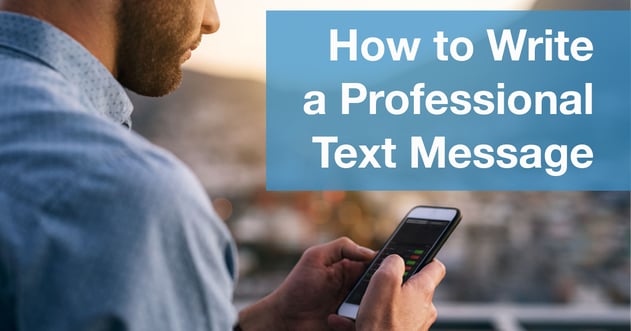 Business owners today have a wide variety of communication channels available to help them stay connected with new and existing customers.
But with this "high-touch" approach, many businesses tread the fine line between keeping their customers engaged and annoying them with a barrage of messages.
That's the risk many businesses run into when it comes to text message marketing.
While text messaging is undoubtedly one of the best marketing channels for businesses in terms of both open rates and conversions, business owners still have a lot of questions about how to do it right.
How many texts are too many? How do you write messages that are professional yet conversational? Are there any rules about how to do SMS "correctly"?
In this guide, we're answering all of these questions and more so your business can be confident in using text messaging as an effective, professional marketing tool.
Watch the video below or continue reading!
Rules for Sending Professional Text Messages
In reality, there are a few spoken (and unspoken) rules about sending professional text messages.
Some of these rules have to do with customer consent and practicality, while others have to do with simple common courtesy.
Want to keep customers engaged without committing any texting faux pas?
Here are some of the best text messaging practices to consider when sending messages to your customers.
Keep it Short
While the 'Myth of the Shrinking Attention Span' has long been debunked, the original findings actually point to a different trend: brands falling short when it comes to writing high-converting sales copy.
When it comes to your marketing messaging, longer isn't always better.
Instead, you should focus on being concise in order to drive users to take action as quickly as possible. This is true for text messaging especially.
Keep your text messages short and concise so subscribers are more likely to 1) read your text all the way through and 2) take action on your offer.
Get Customer Consent
Gaining consent from your customers before sending them text messages is essential.
You must get "expressed written consent" before you can subject subscribers to a text messaging campaign.
To do this, include a disclosure on your opt in form that states that in signing up for your list they are consenting to receive text messages from you.
Be transparent about how often these texts will be sent, whether there are any fees, and how they can opt out at any time.
Limit the Frequency of Messages
Just like longer text messages aren't necessarily better, more frequent text messages aren't always better either.
You don't want to risk annoying your customers by sending them text messages too often, as this may compel them to opt out completely.
Instead, try to establish a specific cadence for each of your campaigns.
You may choose to send three text messages across three days for a flash sale, but only once per week to announce your weekly offers. Do what makes sense for each campaign.
As a general rule, it's recommended that you not send more than one text per day (unless the customer responds to your initial message and opt-ins for more updates) or more than 4 times per week.
If you still see subscribers dropping off, it may be time to tone down the frequency.
Create Easy to Reply Messages
You should make it super simple for customers to reply to your messages, click through to learn more about your products, opt in for more updates, etc.
Don't leave them guessing as to how to contact you or buy your products.
You can make this simple by using short codes like "Text YES to receive discounts" or "Text 10PER to get a 10% off coupon".
You can also send messages that say "Reply YES now to schedule an appointment" or "Click this link to browse products".
With a clear call to action, you make it easy for users to know what to do next, increasing your response rate and conversion rate.
Include a Short Signature
Unless a user has your number already saved in their phone, they may not know who is texting them right away.
Including a short signature lets customers know who is contacting them, even if they don't remember opting into your list.
Also, you can include a link to your company website so potential customers can learn more about your brand, products, and services.
6 Examples of Professional Text Messages
Writing a professional text message is made easy when you have some great examples to look to as a reference.
Let some of these text message examples inspire you to write engaging, high-converting messages for your text marketing campaigns.
1. Reminder Text Messages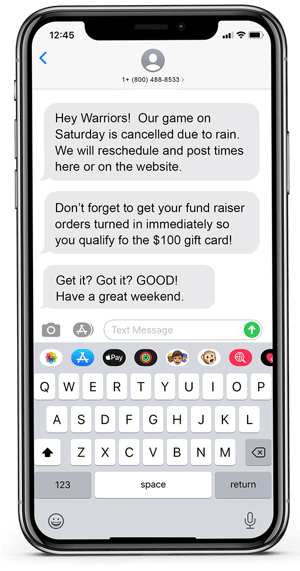 Need to send a reminder to existing customers, patients, or new subscribers?
Text marketing is fast, simple, and gets the message out to the right users.
Brands can use reminder text messages to remind subscribers about:
Booked appointments

Special offers

Upcoming sales

Upcoming events

Application status

Payment processing

Shipment status

Coupon expiration dates
In fact, there are many more ways that businesses can use text message reminders to keep customers in the know.
With automated texting tools like VoxDirect, you can schedule reminders in just a few clicks.
Following are some examples of text message reminders sent by businesses:
"Trusted Bank reminds you of your appointment at 23 Newington Way on Monday, 13th of August at 10:00 am. Your account manager is Timothy Jackson, phone 0748379393."
"You are invited to the interview at PY Finance at 10 am this Wednesday at 21 Clarkwell Road. Please call back on this number in case of problems. Sally from PY Finance HR."
2. Promotional Text Messages
Use professional text messages to promote your latest offers and products.
Run flash sales, let subscribers know about new discounts and coupons, or encourage sign-ups for an upcoming event.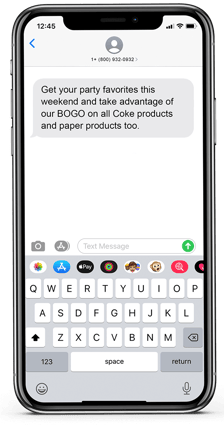 Promotional texts work best when your subscriber list has opted in to receive these specific types of promotions.
For example, you'll want to send clothing sales promotions to those interested in fashion or sporting goods coupon codes to those who signed up for your sporting goods catalogue.
Here are some examples of promotional text messages:
"All your favorite books at your reach! Nottingham Bookstore is now mobile. Best deals for 3 days only, hurry up: m.bookstore.com."
"Be the first to know about discounts and offers at Bethany Beauty! Click here to subscribe: store.com/coupons-deals."
3. Confirmation Text Messages
Customers appreciate knowing when their products have shipped, when items are in route, whether their application has gone through, etc.
Keep customers informed with helpful confirmation text messages.
People may often forget about their bookings, appointments, etc., so sending a friendly confirmation message can ensure that they show up on time (and you don't end up with a hole in your schedule).
They're quick, effective, and much appreciated by your customers.
Here are a few examples of some great confirmation texts:
"Dear Matt. Your flight 349033 will be delayed for 2 hours. Please contact Lufthansa for further information. We are sorry for any inconvenience."
"Hi Joy. Your massage is scheduled for 4/27/19 at 12:00 PM 💆‍♀️. Please plan to arrive 15 minutes early. Reply "Yes" to confirm."
4. Recruitment Text Messages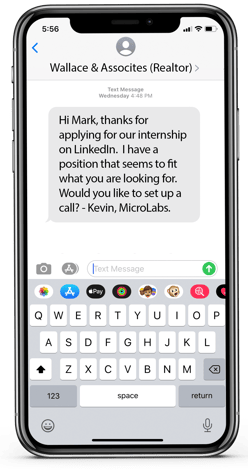 Looking to hire a new team member at your company? If so, you're likely using a variety of platforms for recruitment.
Text message marketing can be a powerful tool in helping you land high-quality talent.
Once candidates have opted in to receive text messages, you can send recruitment messages to schedule interviews, send applications, and more.
With text messaging, you're likely to get a better response rate, creating a pool of more candidates to choose from.
Here are two examples of how recruitment messages can be used:
"Hi Mark, thanks for applying for our IT position on LinkedIn. I have an that fits what you're looking for. Would you like to set up a call? – Kevin, MicroLabs."
"Hi Teresa. You recently signed up to receive updates about job opportunities at Flower & Co. We have a new
Sales Associate position available. Click here to fill out an application!"
5. Staff Communication Text messages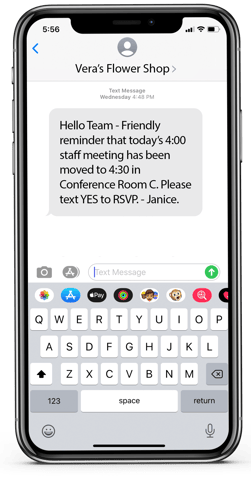 Text messaging can be used to stay connected with your team as well.
Checking email or logging into Slack can be a hassle. With a quick text message, you can keep your staff informed about upcoming meetings, menu changes, inspections, or whatever else is going on in your business.
Some examples of effective staff communication text messages include:
"Happy Birthday! Show this SMS at Jamie's Cafe and get a 30% discount off your dinner! Yours, Jamie Fallanger."
"Good morning XZ marketing! For the team picnic tomorrow please reply with what you're bringing:
A: Dessert
B: Salad
C: Drinks"
"Hello Team - Friendly reminder that today's 4:00 staff meeting has been moved to 4:30 in Conference Room C. Please text YES to RSVP. - Janice."
6. Survey Text Message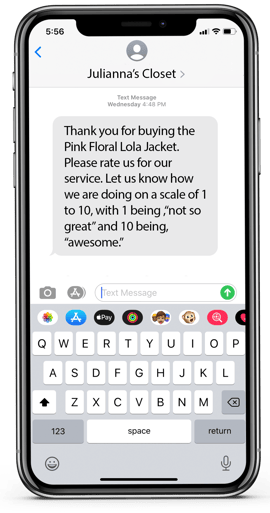 Brands often send surveys to gauge customer satisfaction and discover what products or services customers may be interested in.
Surveys are very effective when it comes to collecting valuable data that will help you make informed decisions about the direction of your business.
But filling out surveys can be a bit tedious, especially if a customer has to comb through an email in order to find the survey link. With text messaging, you can send subscribers the survey directly and gather data, fast.
Here are a few examples of how survey text messages can be used:
"Thank you for buying the Pink Floral Lola Jacket. Please rate us for our service. Text 1 if bad and 10 if excellent."
"Hi Chad, How was your service today?
Text GREAT, OK, or POOR to provide feedback.
Thank you! - Lush Tech, lushtech.com."
Bottom Line
Text messaging can be a powerful tool for businesses if used correctly and professionally.
Though texting is a relatively new marketing tool, there are some best practices you should follow in order to increase engagement without annoying your customers.
Always gain consent from customers before sending text messages, keep your messages short and sweet, and include a compelling call to action to improve response rates.
Use text messaging to send reminders, confirmation messages, surveys, and more to grow your brand.
Want to streamline your text message marketing campaigns? Vox Direct offers a wide range of features to make SMS marketing easy.
Learn more about our professional texting plans today.