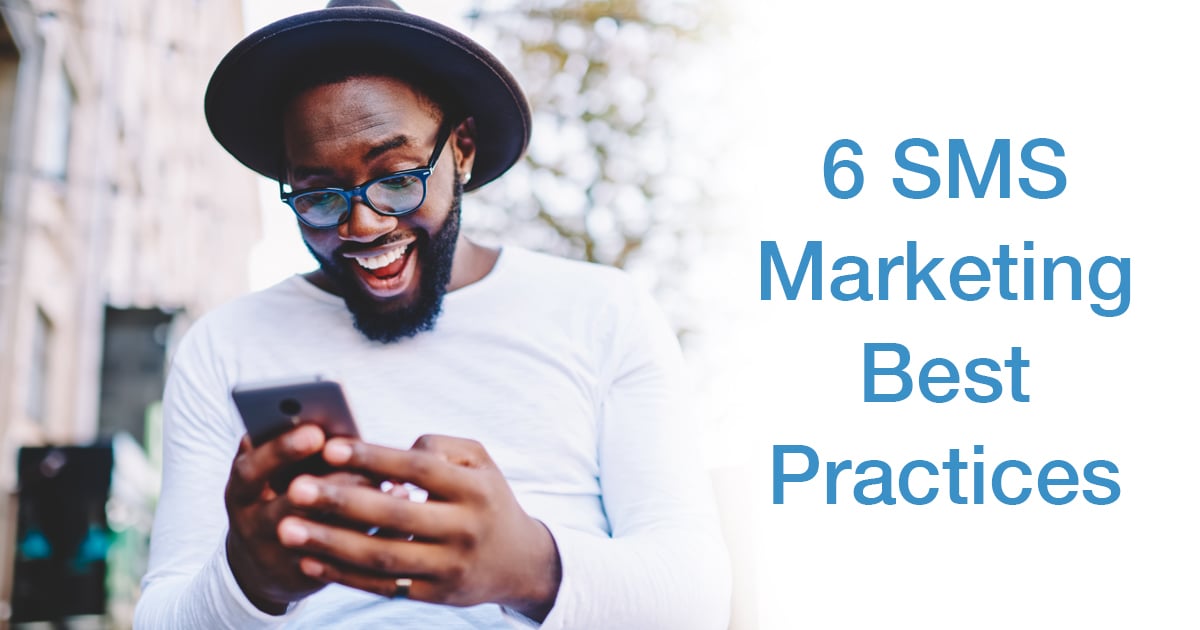 Text messaging has long been used as a way to stay in touch with friends and family, but did you know SMS marketing has revenue-generating applications in business as well?
While many businesses owners may shy away from what's often considered an "invasive" marketing tactic, the reality is that SMS marketing is incredibly effective, convenient, and ethical when executed the right way.
But, it's important to adhere to SMS marketing best practices to avoid any business blunders that could harm your brand.
Through personalization, consistency, and the use of compelling calls-to-action - text message marketing can be more effective than traditional marketing methods.
How does a 98% open rate sound to you?
Watch the video below (or continue reading) to learn the 6 SMS marketing best practices your business can use to improve customer retention, customer generation, and brand loyalty!
The SMS Marketing Advantage
Before adopting a new marketing strategy, it's worth considering how it measures up to other marketing methods.
Text message marketing for small businesses is still relatively new, but we have data to show how amazingly effective it can be.
Check out the data:
Text marketing allows you to reach thousands of contacts in seconds
Send customer discounts, product delivery options, and in-store promotions
in just a few clicks
Send real-time updates to your partners, employees, or event attendees
Let's dive into the top SMS marketing practices so you implement this game-changing marketing tactic the proper way.
6 SMS Marketing Best Practices
1. Gain User Permission First
SMS marketing often gets a bad name when businesses ignore their customer's right to privacy. In fact, an essential step in running a SMS marketing campaign is to request proper permission from your subscribers BEFORE sending them messages.
The Telephone Consumer Protection Act (TCPA) requires that you receive "prior express written consent" from customers you plan on sending messages to. Don't skip out on this one!
How to Gain Permission from Subscribers
In order to gain permission, all you have to do is have your subscriber opt-in to the service on their phone.
An alternative method is to have them subscribe to a dedicated sign-up list that states they are consenting to receive text messages. To do this, add a form to your website, push a phone number from your CRM, or collect a phone number from your MailChimp email campaign.
Note that an "established business relationship" does not qualify as consent when it comes to SMS marketing (or telemarketing in general). In all cases, you must still obtain expressed written consent prior to making SMS contact.
Remember: even with proper consent, it's important to identify your business at the beginning of each text you send. No
2. Utilize Text Message Personalization
Receiving a generic text message from a faceless brand isn't very appealing, but receiving a personalized message from an attentive brand is an entirely different experience.
To improve open rates and engagement on your SMS campaigns, personalization is key.
Personalization technology uses subscribers' data – like their name, age, country, gender, and interests, to provide valuable offers tailored specifically to them. It's a way to provide a customized experience and connect customers with the right offers at the right time.
SM
S personalization is one of the most engaging marketing tools brands can use, often resulting in 98% open rates.
It allows brands to build trusting relationships with customers by providing a human touch that makes customers feel seen and appreciated.
Personalization also helps with timeliness, as it will consider a subscriber's past activity and timezone to provide tailored offers at the right time.
This makes it easier for your brand to attract attention and hook customers in with a timely offer.
How to Personalize Your SMS Campaigns
You can personalize your SMS marketing campaigns by using custom subscription forms (and go one step further by using a Zapier integration).
With segmentation, you can send different SMS messages to different segments of your audience, based on offers they would be most interested in.
3. Use Keywords
Keywords are words or phrases that you can give to your customers (or prospects), allowing them to text your business number.
An example of a keyword in the following sentence is the word 'sale': "Text SALE to 876291 for 25% off your next order!"
Using keywords is a great way to start building your list.
And, in addition to how convenient keywords are for your customers, they're also easily measured and tracked.
Use a unique keywords for every ad or an entire campaign, then easily calculate your return-on-investment by comparing your campaign ad spend to the sales you've generated!
4. Be Cautious About Message Frequency
Just because subscribers have opted into receiving messages from your business doesn't mean they want to be bombarded with texts.
To avoid annoying your subscribers, be sure to set a limit on how many messages will be sent and communicate how subscribers can opt out of SMS messaging.
While there is no hard rule for how many messages should be sent in a certain timeframe, logic assumes that messages should only be sent when they provide true value to the subscriber.
Consider how often a subscriber would realistically like to receive messages vs what might be considered overkill. Then, give subscribers the option to opt out of SMS messages by either clicking an "Unsubscribe" link or texting "STOP" to your business phone number.
Again, this is a matter of consent, and following this best practice will keep you out of legal and ethical hot water.
5. Add Disclaimers!
Disclaimers offer transparency when it comes to your marketing campaigns, helping subscribers trust your brand.
While you may not be able to guarantee any results, or your offers come with certain conditions, adding a disclaimer will help subscribers make informed decisions about what they should buy or opt into.
Some common disclaimers to include in your SMS campaigns are:
Maximum 4 messages per month.
Message and data rates may apply.
For help, text HELP
To stop receiving text messages, text STOP.
We never share your data with 3rd parties.
Here are a few questions to consider when writing your disclaimers:
How many messages will subscribers receive and how often?
How can someone unsubscribe?
Is there a fee for opting into text messages?
Is there someone subscribers can contact if they have issues or complaints?
How will your brand prevent spam?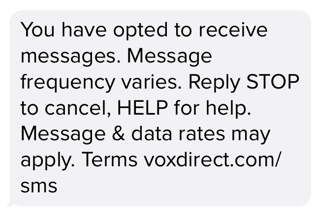 The good news? VoxDirect takes care of disclaimers for you, so you don't have to worry about compliance messages.
This takes some weight off your shoulders and allows you to focus your attention on more urgent areas in your business.
6. Use Power Words and Call-to-Actions
Ultimately, your goal with SMS marketing is to land new customers and drum up repeat business from existing ones.
While sending text updates is great, they're rendered ineffective if you don't include compelling calls-to-action (CTAs).
CTAs are most effective when they use power words to evoke emotion and inspire subscribers to take action.
Add CTAs at the end of your text messages to get subscribers to learn more about an offer, download a coupon, sign up for deals, and more.
Some compelling CTAs include:
Get 25% off our latest Spring collection!
Buy One / Get One – Download coupon now!
Want to attend the event? Click here to reserve your spot!
Call now for your free, no-obligation consultation!
New to our gym? Get a free fitness assessment!


Bottom Line
SMS marketing is powerful when it comes to drawing in new customers, generating sales from repeat customers, and building lasting customer relationships.
The key to SMS marketing success, though, is running your campaigns ethically and effectively, while following best practices along the way.
Ready to get started with SMS marketing for your small business?
VoxDirect helps businesses stay connected with unlimited texting capabilities, click-worthy campaigns, and cutting-edge personalization tools.